Badgers in Winter
Posted on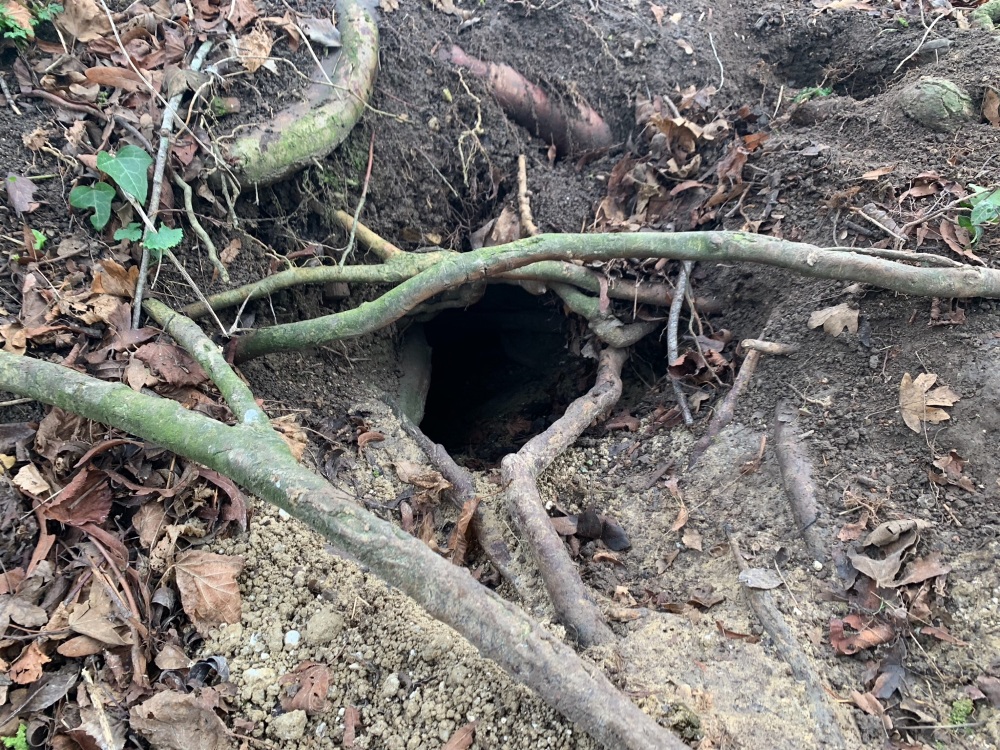 In a brief visit home this winter the garden looked a little sad. Or perhaps it was simply reflecting my own feelings at having been apart from it for so long. It was showing so few of the marks I'd made in earnest in the seasons that went before.
But the badgers seemed happy! I counted more than ten sett entrances, including outliers, all of which showed recent signs of activity.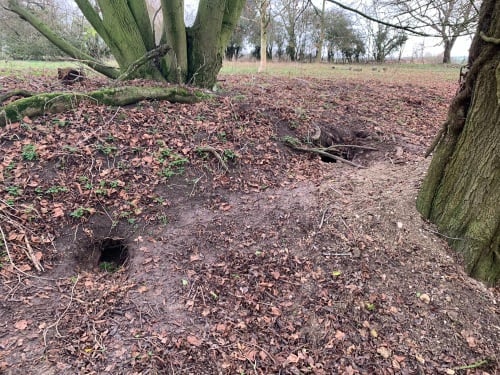 Setts can extend for a hundred metres underground and can have as many as fifty entrances. Badgers do not hibernate as such, but overwinter by spending more time in their setts and entering a state of torpor during inclement weather when hunting is difficult. I can totally relate to this hunkering down behaviour and liken it to the human equivalent of evenings spent in front of the fire on long winter nights!
The winter had so far been mild however and the lawns were also showing the signs of recent badger activity. The earthworm is one of the badgers' main prey (they can eat as many as 200 in one night) and this is clear from the number of scrapings they have made to get at them.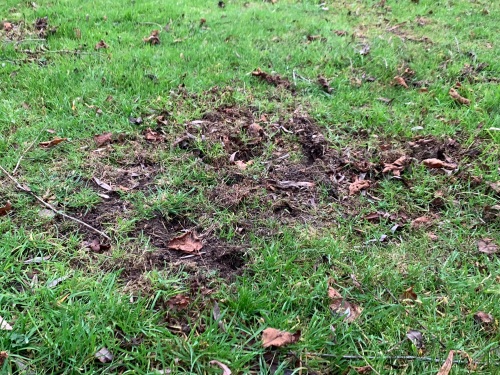 I don't view this as damage, more a compliment that my garden is so full of earthworms! It is also joyfully open to the countryside on all boundaries. To fence it in would be prohibitively costly and, for me, completely defeat the object of connecting the garden to its wider context of the landscape of North West Essex. Not to mention historical context - I get the sense that Old Brock was dwelling here long before us humans made a clearing in the native woodland and settled.
Old Brock in her den
Her nightly excavations
Chalky spoils betray
My garden encompasses what I believe to be the original 'green' of the hamlet and badgers have dug sets all around the ditched perimeter of this ancient plot. It is perfect badger habitat; they often build their setts on the edge of a wood or copse (for shelter), often in banks or on slopes (for easy excavation and better drainage) and with open pasture in close proximity (for their crepuscular foraging).
The main breeding chamber in particular (top picture) has been here at least sixty years. A neighbour reliably informed me that long ago a previous owner (a rather formidable lady) sent the master of the local hunt away with a 'flea in his ear' for trying to dig a fox out of it on her land! Opportunistic foxes can occupy abandoned badger setts (I have even heard that they occasionally share), but it is possible this fox had just gone to ground here to escape the hunt. Hunts used to fill in setts or block sett entrances to prevent this happening.
This is just one example of how these mammals have suffered at the hands of man in a long and often gruesome history of persecution extending back many hundreds of years. This persecution left badger populations at an all time low around the turn of the last century. However, owing to the decline in the number of gamekeepers and the legal protections given to badgers during the latter half of the century, the population today is estimated at 485,000. In fact the UK is thought to have the highest density of badgers within the species' range.
The sett is definitely occupied by badgers these days and is the clan hub. This picture shows the vast amounts of used bedding material which has been pushed out of the maternity chamber over the years, now almost burying a nearby fallen tree.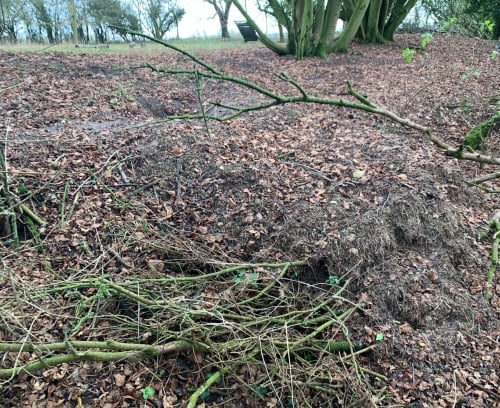 And the following clip shows what I believe to be a female (sow) meticulously checking the air before venturing out of it early one spring evening. Do watch with the sound up to enjoy the bird song and hear her nibbling the peanuts I had scattered:
It was my first experience of watching badgers in the garden. Later I watched her bring her two young cubs out, but could I reach my camera? I hardly dared to breath! It's such a treat to know these beautiful mammals are living at the bottom of the garden that I can easily forgive them the mess they make of the lawn.