Meadow in the Making
Posted on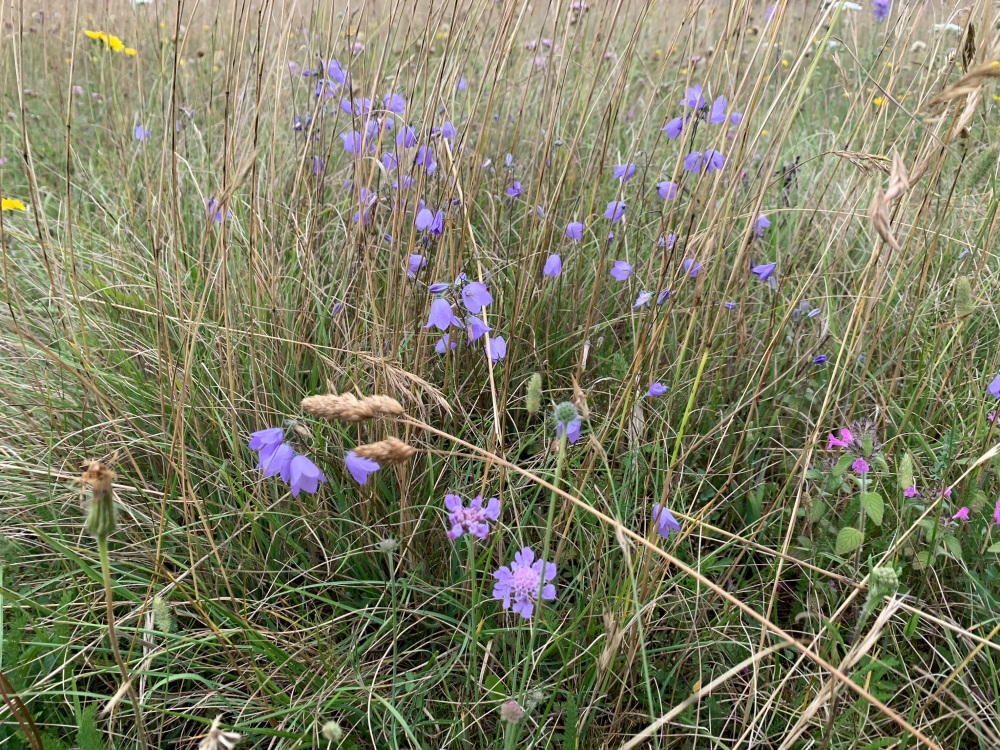 Saturday was a very happy day - my mother in law remarried in the beautiful Chiltern hills. Meeting later in life, Jean and Barry decided to make hay while the sun shines - and shine it did on their big day.
On the morning of the wedding I went for a jog along the ridgeway through the species-rich chalk grasslands of Aston Rowant nature reserve. It was a damp and windy morning, cheered by sunny spells. Small blue and marbled white butterflies battled with the breeze among the swaying wildflowers, as red kites wheeled and cried in the sky above.
As I climbed up on to the ridge the serenity and beauty of the place became increasingly vivid, dulling the churn of the M40 motorway below. It occurred to me that love performs a similar function in life. It helps us to hone in on joy and beauty and drowns out all the nonsense.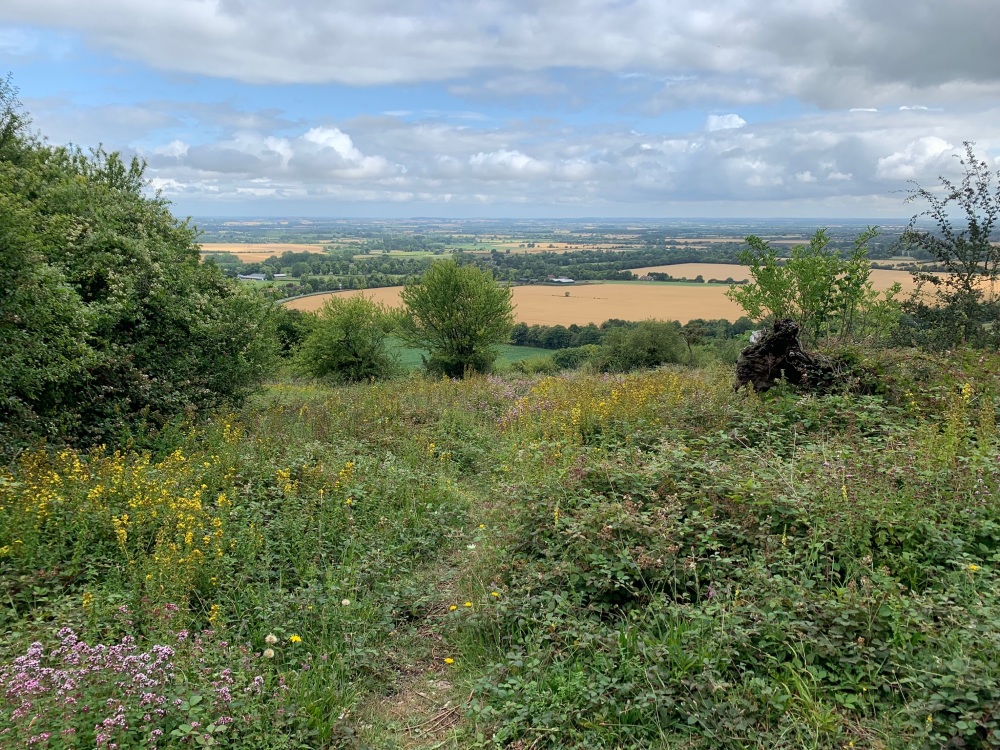 It also got me thinking about how to enhance my own 'meadow' back home. We allowed big swathes of the three acre lawns to grow long the first summer we moved in and these areas have not been cut since. A reasonable amount of floristic diversity has emerged over those three years. From memory we have bugle, self heal, speedwell, clovers, trefoil, yarrow, knapweed, hedge bedstraw, cow slips, 'jack go to bed at noon', (a personal fave) cinquefoil, ground ivy, marshmallow, cuckoo pint, dogs mercury, jack by the hedge, a number of yellow composites and the usual suspects of nettles, thistles, cow parsley, docks and ragwort. There is probably a lot more than that upon close inspection, but nothing like the diverse and rare delights found in some relic grassland and traditional hay meadows.
The grasses tend to dominate (as can be expected on nutrient retentive clay) and a main objective will be to reduce this dominance to make space for wild flowers. There are a number of ways I could do this:
I could use grazing animals (the wild deer, hare and rabbits already play their part!) but I don't have the fencing or time for ponies or sheep and they of course ultimately return nutrients to the soil which will only help the blasted grass!
I could attempt to establish yellow rattle, a native wildflower which is a parasite of grass (enabling less vigorous flower species to establish) and this I will indeed try.
Ultimately, the easiest way would be to give the 'meadows' two or three long cuts a year throughout the growing season and remove the resulting grass cuttings. If the cuts are long enough, wildflowers will still be able to grow vegetatively and set some seed but the seed and nutrients in the tall grassy vegetation will be largely removed.
The meadows are absolutely buzzing with insect life at the moment which is no doubt a result of them remaining uncut for so long. Meadow brown, cabbage white, peacocks, tortoiseshell, red admiral, marbled white, brimstone, small copper and painted lady butterflies embellish the sward, along with numerous moths, bees and hover-flies. I may leave a few patches long year-round to help insects which overwinter variously as either eggs, cocoons, larvae or adults. 'Create diversity to support diversity' is my new gardening buzz phrase!
The long grass has also formed tussocks which are a favourite habitat for beetles, voles and other rodents and these will remain largely undisturbed by cutting. Ant hills abound and my strategy for establishing patches of yellow rattle throughout relies on me seeding it into the fine tilth of the soil disturbed by the ants. I will let you know if this works. Ants have been known to help disperse the seed of Veronica persica (speedwell) - any such gardening efforts are most welcome here!
Once the grasses and nutrition levels are under control (although perhaps sooner, as this could take several years) I plan to sow a bespoke mix of native wildflowers throughout by cutting patches back to the bare earth and scarifying and then sowing both seeds and plug grown plants into the patches. This will include, not just my favourites, but the flowers which thrive in the ancient species rich verges and greens we are so lucky to still have locally. These are the species content with a chalky Essex boulder clay and so should do very well. The ones that spring to mind from local walks include agrimony, scabious, toadflax, fleabane, coltsfoot, moon carrot, campion, oxeye daisy, purple vetch, bee orchid, cranesbill, salad burnet, nettle leaved bell flower and wild marjoram, along with meadowsweet, butter burr, sneezewort, figwort and the willow herbs for the damper areas. So, lots to do, but all I can say is: 'Watch this floristically enhanced space!'
Update October 2019:
Things I sowed as seeds:
Fleabane
Marjoram
Moon carrot
Agrimony
Lady's bedstraw
St. John's wort
Knapweed
Toadflax
Yellow rattle
Field scabious
Things I sowed as plugs:
Ox eye daisies
Ragged robin