Digging for Victory
Posted on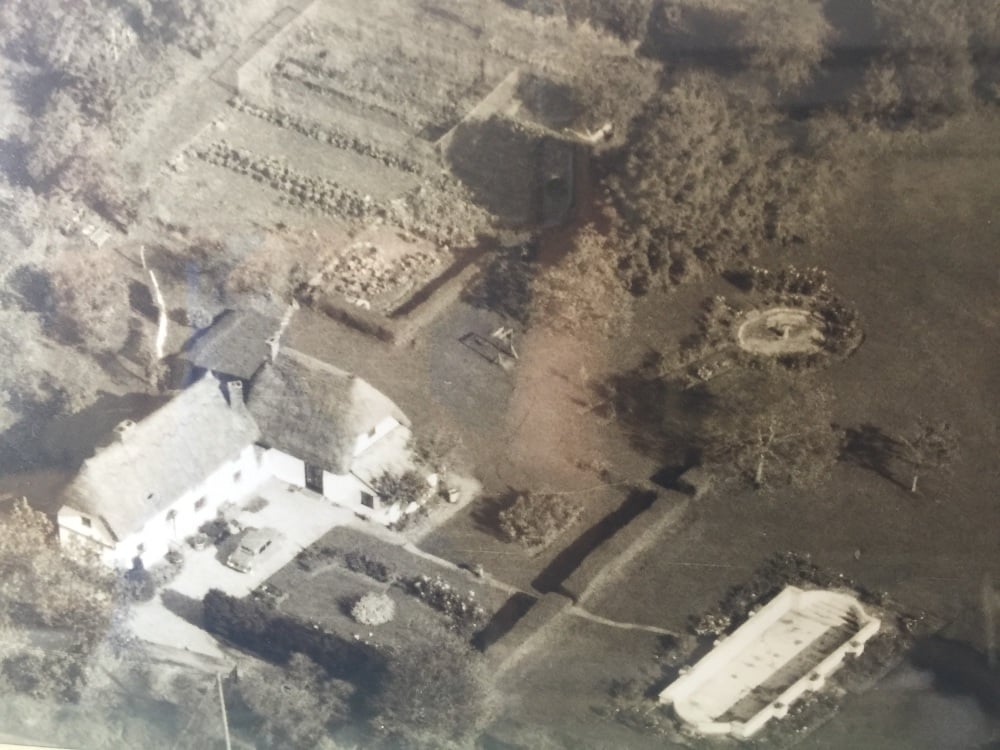 Back in March when I realised I was facing months of homeschooling three primary age children (picture staring into the abyss, but without the redeeming feature of an abyss), I decided to press go on the self sufficiency project that has been a long held dream of mine. There is an ancient and decrepit swimming pool in the garden here which must once have been a rather glamorous luxury, somewhat at odds with this rustic setting.

Rumour has it that, once upon a time, the house was a 'society retreat'. A little digging suggests this could well be true as I discovered two notable painters (with connections to the Bloomsbury group and sculptor Henry Moore no less!) and the families of two famous flautists lived here in the 1930s and 40s.
During the war three women lived here and it had a reputation as something of a 'party house'. Food was relatively available as there was a full time gardener growing fruit and veg with the excess collected by truck each Friday to be sold to London markets. Apparently, the ladies of the house also did their bit for the war effort by 'entertaining' officers from local airbases - but l digress.
The pools' intriguing history did not supplant the fact it was now a crumbling concrete eye-sore and a waste of space. Neither our bank balance nor our ecological conscience would allow us to restore it to its former glory and yet to demolish it would feel like a costly act of vandalism. It made for amusing conversation with our friends, with suggestions about converting it into a penguin sanctuary/ orangery/ bog garden/ bear pit etc... but once our visitors had departed the question 'what will you do with it?' was always left hanging in the air. When faced with a dilemma my friend Jules asks herself 'What would Rod Stewart do?' I'm not as rock and roll as her so I rephrased that question to 'What would Monty do?" And so our Lockdown/ Victory/ Pottager/ Allotment/ Kitchen garden was born!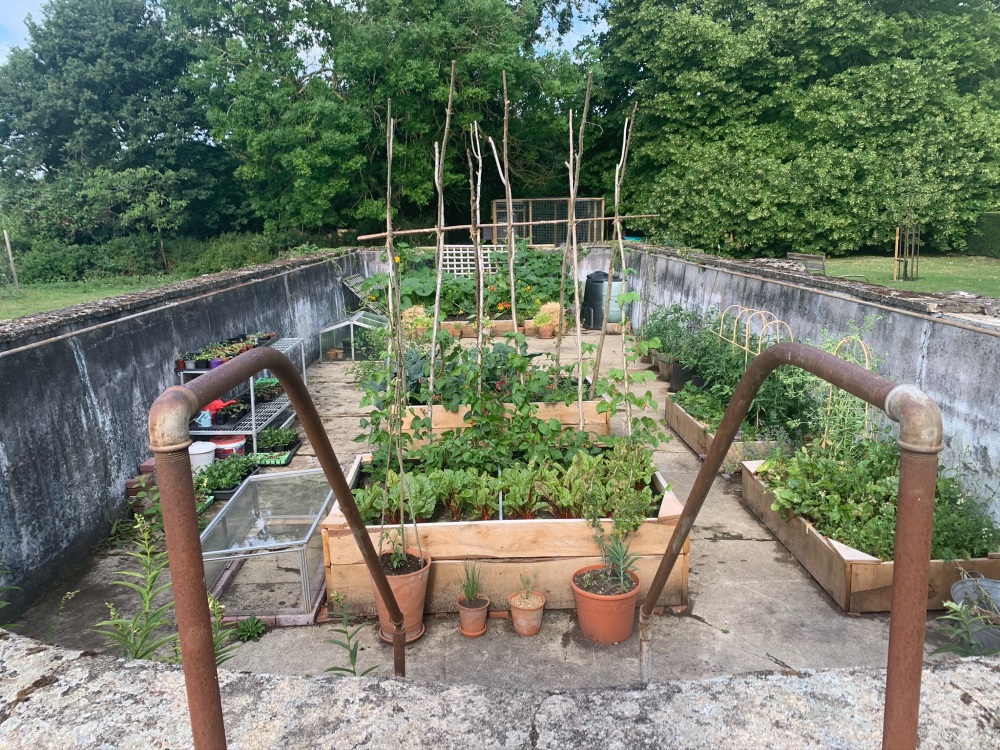 The old pool walls act as a heat sink, creating a favourable climate for sun loving plants such as cucumbers, peppers and tomatoes. Fortunately the pool base is so broken it drains well enough, even after a downpour. Even so, I wedged the raised beds up on old tiles to help prevent the oak boards rotting prematurely.
The aim is to be self sufficient in herbs and salad year-round by using cold frames and growing leaves that overwinter well (such as corn salad, land cress, sorrel, miners lettuce and rocket). Even when there is frost on the ground most of the pool remains frost free. Another aspiration is to produce a quantity of food equivalent to feeding one member of the family for a year (each year - about 1500 pounds). The biggest boon is that the hungry herds of deer and our marauding colonies of badgers and rabbits don't appear to be able to get in. Fist pump!
We compost all our kitchen waste in the black bins. The microclimate in the pool means they heat up pretty well and (theoretically at least) rats can't get in because of the concrete base. We make our own organic liquid fertiliser (nettle and comfrey tea) in the old water butt. I'm currently constructing a leaky-hose irrigation system. The shelves on the southern wall get a bit of shade and so work for strawberries and young plants which want a bit of respite from the heat - it's generally too hot for seedlings and cuttings in the summer though, so I have a separate nursery area elsewhere.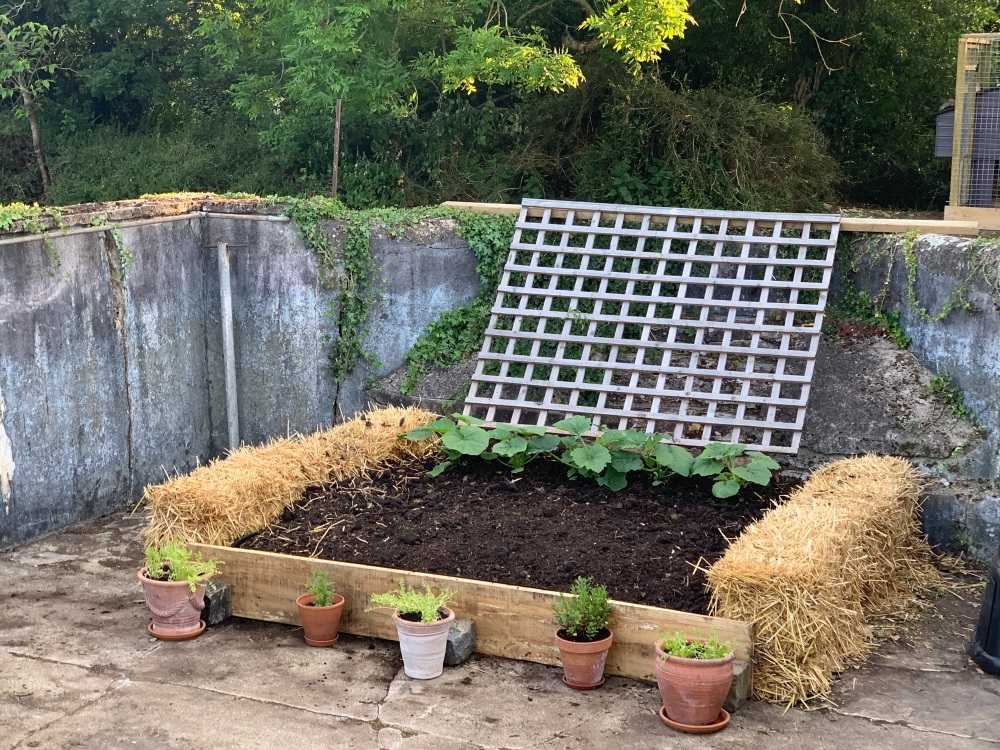 The straw bales bed houses a pumpkin and squash patch. We used rotting logs or straw to line the bases of all of the raised beds to reduce the cost of filling them.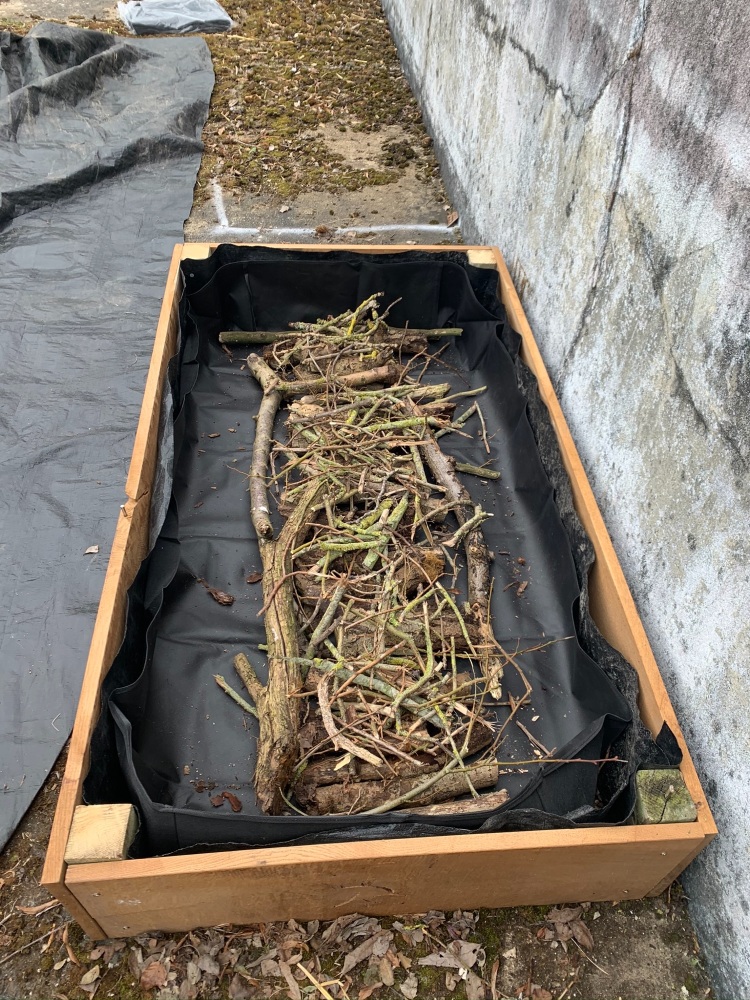 This is based on 'huglekulture' (translated to 'mound culture' in English); organic matter should provide a moisture retentive 'core', slowly releasing nutrients, encouraging microbial activity and conditioning the soil over the coming years. We are fortunate to have neighbours who keep alpacas as pets. They had a surplus of well rotted alpaca manure which helped fill the beds. I am told this was the 'black gold' the Incan empire was built on!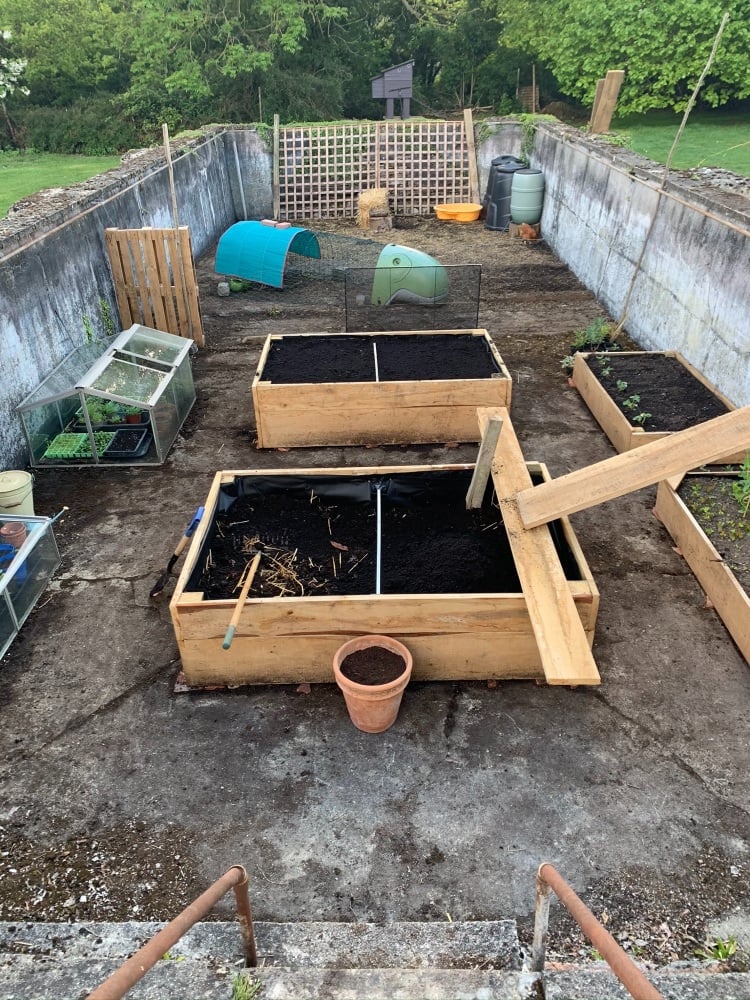 Ten new resident laying hens mean we no longer need to buy eggs and can develop our own supply of manure for the future, as well as offer 'rainbow eggs' for sale.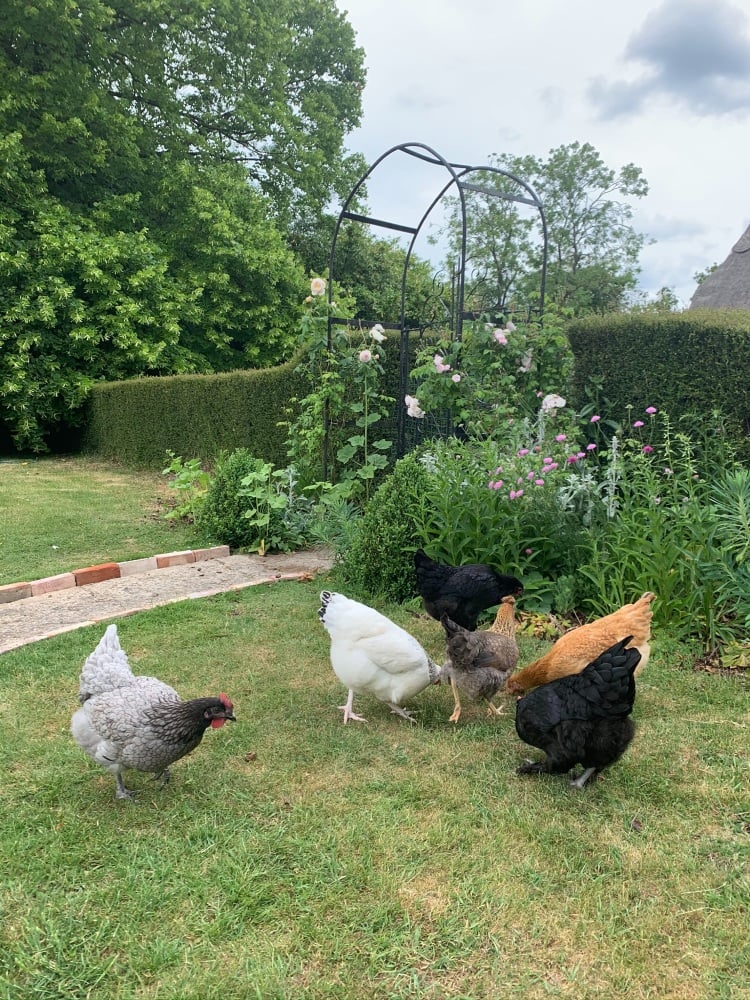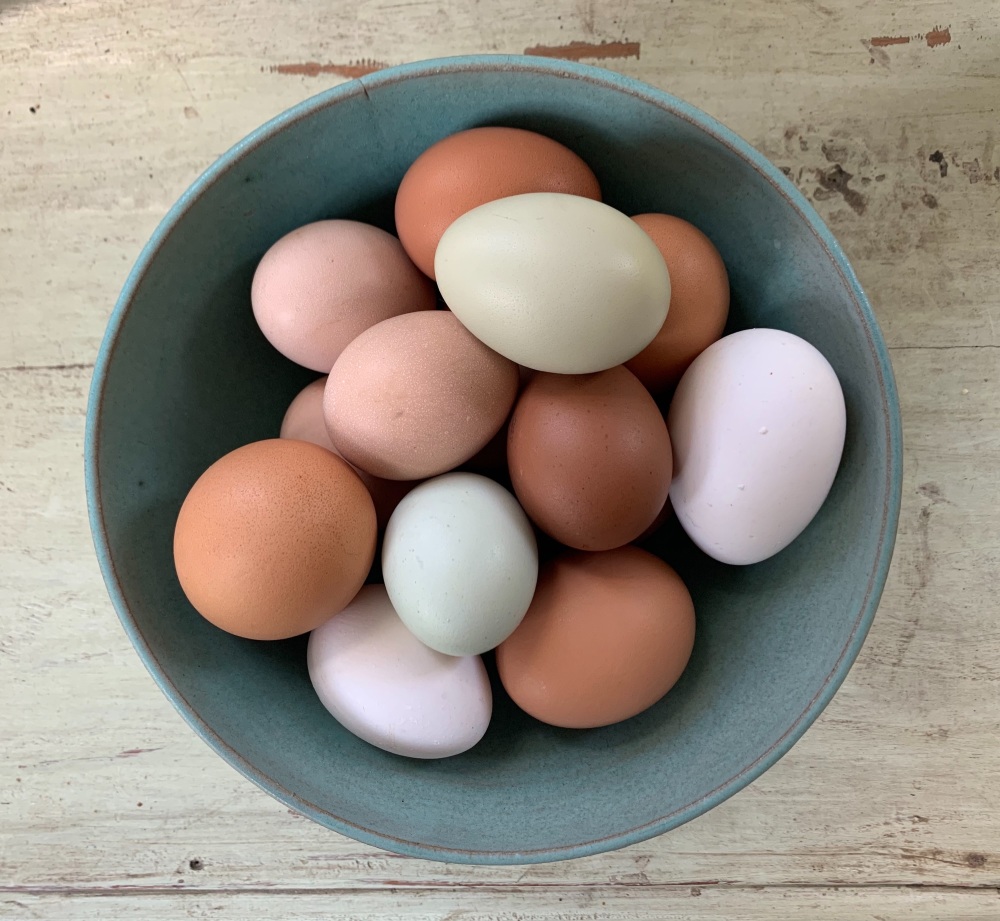 We've even managed to share some of the surplus veg with neighbours which has been great fun for the children.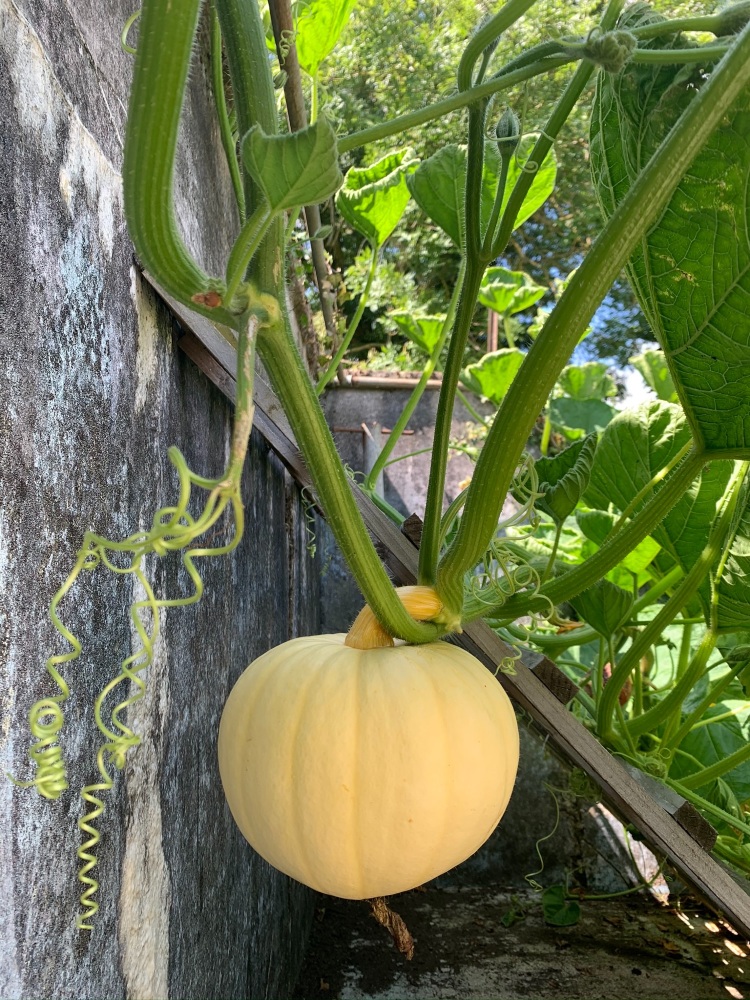 Developing this part of the garden has been a brilliant alternative 'homeschool' project. It has also been rewardingly cathartic. In uncertain times there is nothing more certain than the feel of a spade in ones hand. The 'Dig for Victory' campaign performed a similar function during the Second World War; it was devised as much as a means to boost morale, offer comfort and empower people as it was to supplement the diet with fresh vegetables. Food for thought as we tend our own Victory Plots during the current troubled times.